Camera Shopping in Tokyo Pt. 2 – Ginza
In part 2 of this series we are going to talk about an area that is very close to my heart, as it is where I first got the chance to be JapanCameraHunter. We are talking about Ginza of course.

Ginza is one of Tokyo's most upscale areas, and it is famed for having some of the most expensive real estate on earth. There are big brand shops galor here, it is every shoppers dream. But you will also find some of the best camera shops in the world in Ginza. You can spend all day walking around this place and you can often find me prowling the stores here. There is something for everyone.
Ginza is convenient because everything is within walking distance, there is no need to get on a train or in a taxi. I have created this map with a list of all of the camera stores on it. Check it out and you will be able to see the locations of all the stores I have mentioned in these articles.
So, without further ado lets get on with it. I am going to walk you through the way that I usually walk through the stores, as I like to be efficient when I am camera hunting and like to take the fastest route.
Nikon House
http://www.sukiya.co.jp/list.php?c=3
The title picture and the place that I always start. This store is iconic and has been featured in many shots over the years. Right on the corner of the Sukibayashi crossing, you cannot miss this place. The window is simply stacked with glass and cameras.
Nikon house is a special store. They get a lot of traffic, and consequently they don't have time to be overly polite. Bear in mind that they get a ton of people coming in and demanding this and that, so they are quite short with most people. If you are polite and speak a bit of Japanese then they are very helpful and knowledgable. Don't ask for non Nikon, they don't have it. Don't ask about repairs, they don't handle them. Don't ask for a discount, they will not give you one. But do revel in the splendor that is the church on Nikon. This place has (almost) everything
Lemon Camera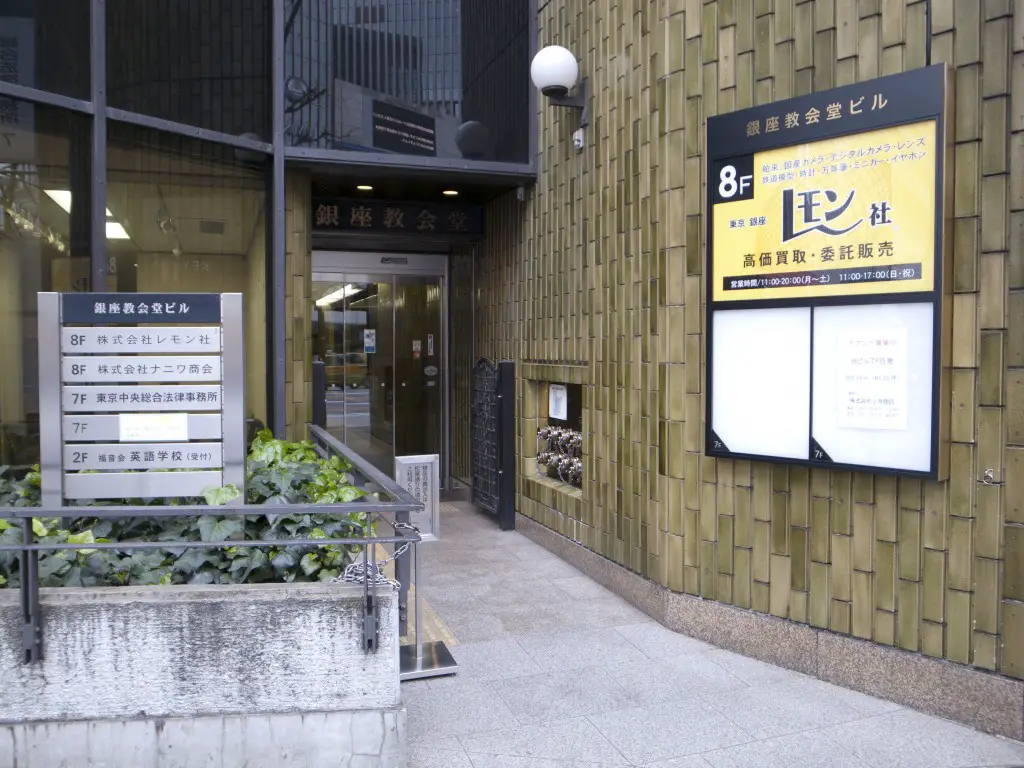 http://www.lemonsha.com/
The original Lemon store is located in Ginza and just a short walk down the street from Nikon House. It is deceptive though as you might just walk past it. It is located on the 8th floor of a building that houses a church. Once you are inside you will know you have found the right place.
As mentioned in the previous article, Lemon is a consignment shop. As a consequence of this you are going to find that some of the prices are a bit silly and some of the items in there are not accurately described. Make sure that you check anything completely before leaving the store as they will not refund under any circumstances. This Lemon store is the biggest and has a superb selection of most brands. There is even a large selection of large format cameras.
Well worth checking out, but just be sure to check everything you are intending to buy.
Shimizu Camera


Shimizu is one of the older stores in Ginza, and used to have an amazing stock. Sadly over the years they have faded and they are now a store that I often just peek in the window as I am passing by. They still have some nice items, but their prices are not really in touch with reality. They don't do discounts either. You can sometimes find some interesting stuff in here, so it is always worth a look. If you are walking past you should have a look in the window and check out a slice of camera history.
Sukiya Camera
http://www.sukiya.co.jp/index.php


The head store of the Sukiya group, this shop is on the same street as Shimizu camera. It is in a tiny little recessed doorway and you would miss it if you were not specifically looking for it. The store has some beautiful items and the guys there are very pleasant. They mainly cover the German cameras, but there is a little bit of everything in here. They also handle repairs for Leica cameras (non digital) at very reasonable prices. I try to stop in here often, as there is always something nice to look at.
Katsumido Camera
http://www.katsumido-camera.com/english/index.html


For those of you that don't know, Katsumido is the Harrods of the camera stores. Its selection is fantastic, they have classic Leica and Nikon that would make your eyes water. And their prices would make everything else water. This place is seriously expensive. The staff can be rather standoffish, as I suppose they have a right to be. An interesting store to stop by, but if you are looking for a bargain then you should be looking somewhere else.
Miyama Camera


This is the Ginza branch of the Miyama group. They have been shrinking in recent times, with the Ikebukuro branch closing last year, but they still have a nice selection of very clean items. The Ginza branch is small, but it has some really nice pieces and the staff are open and friendly. Really worth checking out on the route. Miyama is a good place to find those difficult to locate Nikon accessories.
Sankyo Camera
http://www.sankyocamera.com/


Now, Sankyo is a bit of a legend in Ginza, as it is one of the oldest stores here. There are actually two stores, but they are basically next to one another, so I am going to start with the main store.
The main store is where you go to find Leica, Rollei and other German/European cameras. And the cameras that they have a fine indeed. The prices are reasonable for Ginza and sometimes they might offer you a discount if you are charming enough (and speak Japanese). This is a store that you simply have to see if you are in Ginza.


The second store is where you go to find Nikon rangefinders and other miscellaneous cameras. I have never seen so many Nikon RF cameras in one place. The staff are friendly and the store is a lot of fun to look around. Definitely worth checking out.
That about wraps it up for the used camera stores in the Ginza area, but there are a couple more places that you should check out seeing as you are in the neighborhood.
Ricoh Ring Cube
First would be the Ricoh Ring Cube Gallery which has a mini museum featuring all of the Ricoh cameras that have been made, and a gallery with regular international photography exhibitions. This place is well worth a vist and afterward you can have a coffee downstairs and watch the world go by.
Leica Ginza
The Leica Ginza boutique is just that, a real boutique. It is not a camera store really, as it has so much more. The first Leica boutique in the world it has a reputation to uphold, with releases of limited edition Leica cameras, events and exhibitions. Upstairs is a gallery with regular exhibitions featuring world class domestic and international photographers. The interior is simple and beautiful, the cameras are stunning and the gallery is peaceful. An absolute must-see if you are in Ginza.
So, there you go, part 2 is covered and you should now have a better idea of the Ginza area. This place is great to walk around any time, but on weekends it is absolutely packed with people. There are tons of good cafes, so you can always stop whilst you are shopping. And you never know, you might bump into me on the streets there.
Japancamerahunter