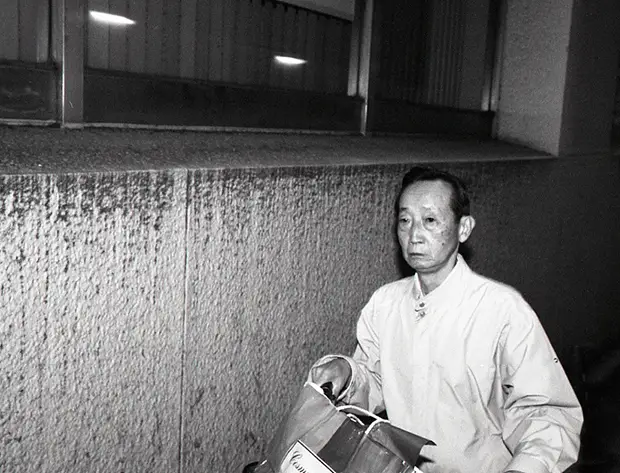 JCH X F8 Tokyo Photography Workshop Nov 7-9
It is not often that I do a workshop, as I rarely have time. But when my mate Gary Tyson of F8 Photography in Hong Kong mentioned he wanted to do a workshop in Tokyo I thought this would be a good opportunity to get out off the office.

In November Gary and myself will be hosting a small workshop to explore the streets of Tokyo. Our November 7th to 9th workshop in Japan will provide a sensory overload of city life in Tokyo if you have never explored it before.
I am teaming up with Gary Tyson of F8 Photography to put together a small and personalised workshop for those of you who want to explore Tokyo in a way you would not see in the tourist brochures.
Gary is a professional photographer who lives and works in Hong Kong. I first met Gary a couple of years ago in Hong Kong and was quickly impressed by his passion for photography, his professionalism and his direct nature. We often talked of doing a workshop, but never really got the chance until Gary came to Tokyo a few months ago and got a feel for the place.
Gary was a professional photographer and videographer for the British Army.
His work has taken him to a variety of locations all over the globe, including war zones such as Iraq, Kosovo, Sierra Leone and Northern Ireland amongst many others.
Gary shoots Leica film and digital as well as the Sony A7s camera for travel photography.
You can see more of Gary's work on his website here
or his public Facebook page here
Here are Gary's words about the workshop:
This workshop is ideal for photographers who want to be explore a different culture for the weekend with a small group of like minded photographers and be accompanied by F8 Photography and Japan Camera Hunter who will be on hand to assist/guide and advise throughout.
This workshop is for a maximum 8 people and will go ahead with a minimum of 6 people, so it is much more personalised experience than you get on a large group workshop.  we guarantee you will go home with some fantastic images and Bellamy is on hand to help anyone who is looking to buy new (or retro) camera gear also…how cool is that, a workshop combined with the experience of the best personal camera shopper in Tokyo at your disposal!
We will be on hand throughout the workshop to assist, guide and advise you as necessary to ensure you get the maximum benefit from your camera during your time in Tokyo.
The Plan
We will do a portfolio review with prints on the first morning (you will be required to make some prints in advance of the workshop), then we will set you projects to go and shoot for the remainder of the day. You will have time to shoot in and around some great location around Tokyo. We will be based in the awesome Shijuku district and will work outwards from there exploring areas to include: Ueno, Shibuya, Harajuku, Yoyogi Park and Meiji Park.
We will be on hand to review your work and give guidance throughout the day on Saturday with the option to meetup on Saturday night to help you define your portfolio for your presentation on Sunday afternoon.
There will be early shooting on Sunday, followed by putting together your presentation to present to the rest of the group before the end of the workshop.
On this workshop you will get:
– Any guidance you may need to assist you using your camera and understand how it works in the field.
– correct ways to use light metering with your camera to achieve the desired effects.
– composition critiques and feedback on your photographs.
– Our recommended ways of approaching a subject, breaking barriers and building confidence before you even consider pressing the shutter.
– shooting environmental portraiture of a variety of individuals.
– learn to use your flash (optional) for street shooting.
– Guidance on producing a project, a set body of work that is themed so you can produce a final presentation in 2 days.
We will have group critique and review sessions throughout the workshop and you will be exposed to a variety of culture, scenarios and food!
How much does it cost? 
The cost of the workshop is HK$11,995 ($1550 Approx)
EARLY BIRD DISCOUNT PRICE IS 10,995 ONLY IF PAID BEFORE 31st August 2014.
RETURNING F8 CLIENTS PRICE AVAILABLE AT HK$10,495 (only if paid before 31st August 2014 as we have to prepay and book hotels.  Thereafter normal rates apply).
This fee covers the cost of all workshop fees including 2 nights in the hotel with breakfast.
The fee does not include flights to Japan.  You should make your own flight arrangements.  The workshop will start with an option get-together on the Friday night (7th November) at 7pm onwards, and will finish around 5pm on Sunday evening, so please arrange flights to work around that schedule (we can provide recommended flight options to and from Hong Kong for you if you require further info).
The fee also does not include miscellaneous expenses such as evening meals, alcohol and laundry, etc.
So that is it. If you would like to know more or make a booking for your spot then check out Gary's page and follow the instructions there.
– See more at: http://www.f8photography.com.hk/event/tokyonov14/
Hope to see you in Tokyo.
JCH